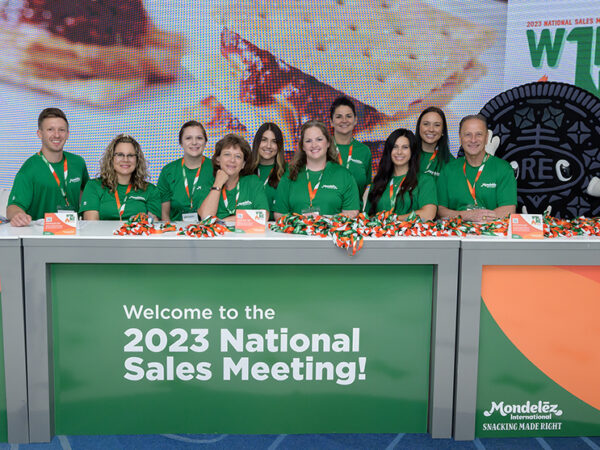 National Sales Meeting Planning
our opportunity
Design an engaging and exciting meeting experience for 700+ attendees for Mondeléz International's first in person national sales meeting since pre-pandemic.
our approach
Create a meeting conducive to collaboration on goals/plans while balancing time for attendees to connect, network, and celebrate comradery. In curating the experience, key considerations centered around creating excitement, engagement and collaboration.
Vetted top-rated meeting destinations in the U.S. Managed final negotiation and overall logistics with selected property.
Created event thematic, developed eye-catching signage & sourced decor to bring each space to life & to enable seamless transition between sessions.
Worked with venue chefs to create custom menus for breakfast, lunch, session breaks, and receptions; incorporating client products where possible, while ensuring a variety of alternatives to address all dietary needs unique to group attendees.
Developed and implemented the overall communication and engagement plan, inclusive of a custom registration microsite & mobile app for engagement pre- and during meetings.
Seamless coordination of travel arrangements for air, hotel, and ground transfers for 700 guests.
Led the overall IAT inclusive of Sales, Marketing, Creative Services, Venue & Vendor Partners.
Created a once-in-a-lifetime exclusive experience by closing an iconic venue in Miami Beach and opened it only to our guests.
results
92%
welcome experience satisfaction rate
84
registration/app communication satisfaction rate
87
overall meeting satisfaction rate